Our company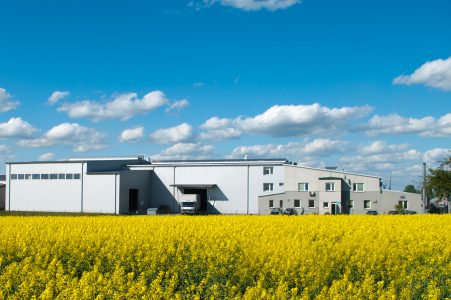 Since 1992, "Krautex" has been operative on the domestic and international markets in the area of processing, production and trade in medicinal herbs and spices. Our average annual sales volume is over 3,000 tonnes. Our flagship products include: Thymus vulgaris (common thyme) – with annual production of 1500 t, Melissa officinalis (lemon balm), Mentha Piperita (peppermint), Valerianae Radix (valerian root), Chamomilla recutita (chamomile) and Anthemis nobilis (Roman Chamomile). Our full list of products can be found in "Our products".
Processing
All raw materials purchased from farmers undergo processes such like: threshing, cleaning, cutting, griding, mixing and sterilization. The needs of our customers and our long experience serve as a basis for using appropriate processing in order to obtain a satisfactory cut of high quality no matter if the product undergoes further processing or it is used as an end product. Our company has also its own steam sterilization line. For more information click: Our Offer.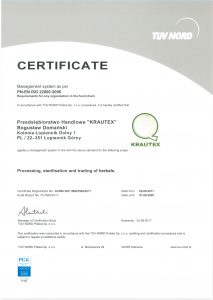 We spare no effort to ensure the highest quality of our products that is why all processes are monitored and recorded. The whole process is supervised in compliance with the HACCP regulations. Our company's laboratory ensures the quality of both the input and output produce. For more information click: quality
Sales and export
Our produce is sold on the domestic and international markets and has won recognition of many customers in Europe, North and South Americas, and in Africa. Our customers include companies operating on the markets of spices, herb teas and medicinal herbs. The full list of our products in included below in Our Offer.
We are a solid and reliable supplier and we can prepare and deliver both small batches of our products as well as carry out full truckload orders and long-term contracts.
Our laboratory is able to conduct many tests on site, which makes it faster for us to establish the quality requirements and fulfill the orders. We look forward to cooperating with you.